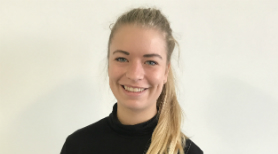 Frederikke Kildeberg Paulsen is student counsellor for all study programmes under the Study Board of Civil Engineering.
ADDRESS
Frederik Bajers Vej 7H
9220 Aalborg East
OFFICE HOURS
There are no office hours, but you can always make an appointment.
E-MAIL-ADDRESS
bio.sg@ses.aau.dk
PHONE
+45 9356 2043
SKYPE
We also offer student guidance via Skype. Send Frederikke an email in order to make an appointment.